October 30, 2017
Posted by:

emre

Categories:

Humanitarian Aid, Medical Support, New Friends to Lonely Toys, News, Operations, Search And Rescue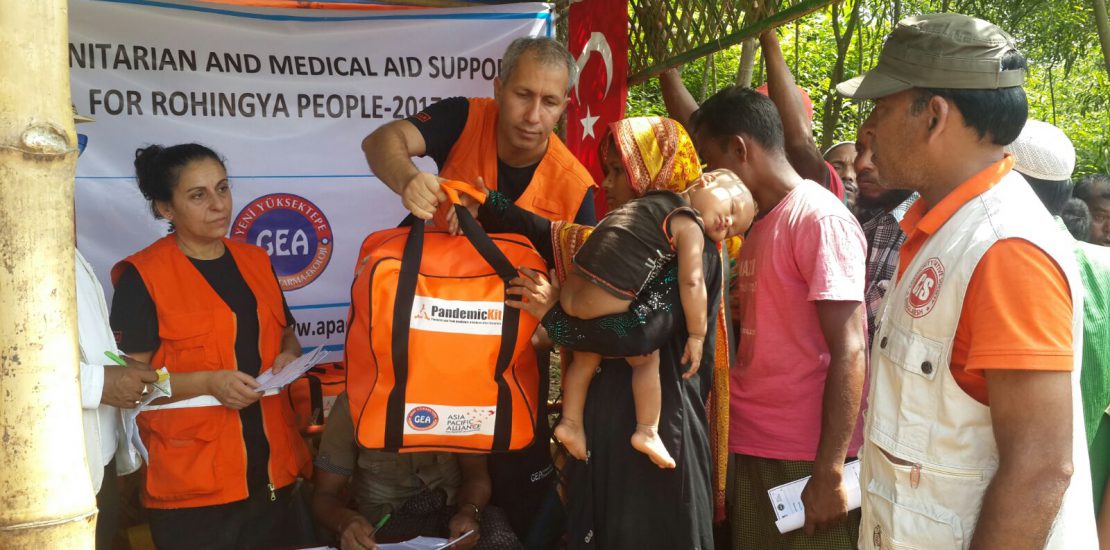 The GEA Search and Rescue Group Humanitarian Aid and Medical Team carried out medical support and humanitarian aid activities in order to alleviate the difficulties experienced by the Arakan Refugees in the first days after crossing the border.
With the knowledge of AFAD, the GEA Team, consisting of 7 medical and logistics team members, prepared and distributed GEA Pandemic Kits between 17-29 October 2017 in cooperation with the local civil organizations APAD and DC Hospital Trust. In addition, health screening and treatment studies were carried out.
These distributions and activities have been carried out in the mobile clinics established in Cox's Bazaar, in Hakimpara and Mynarhgona Village, where 76.100 refugees live, and in Balukhali Union, where approximately 127.800 refugees live.
Prepared for disasters and emergencies, GEA Pandemic Kits (infectious disease preventive kit) were delivered to 4200 asylum seekers as a result of intensive activities. GEA Pandemic Kits contain daily basic hygiene materials that can be enough for a family of 6, as well as basic supplies such as first aid, blankets, mosquito nets, towels, glasses and plates.
Health problems caused by forced migration, difficult environmental conditions and limited opportunities in camps make life more difficult for refugees. Health screening and outpatient treatments were carried out by 3094 Arakan refugees facing serious health problems by volunteer doctors and paramedics in the GEA Team.
According to the information obtained by our team working in the region, there are 14 camp areas in Cox's Bazaar, where approximately 1.3 million refugees struggle to survive in many poverty.
The vast majority of refugees in the camps are people who are engaged in fishing and agriculture in their own countries. In general, the literacy rate is very low, the marriage age is 13-14 years old for girls, and 15-16 years for boys. There is no electricity in the camp area where 45% of the migrant people are children and 70% of women are pregnant. Providing basic hygienic conditions is essential for the prevention of epidemics in camps lacking basic infrastructure services.
Our many non governmental organizations in the region, especially AFAD, Kızılay, our Ministry of Health and TİKA, continue their activities with incredible devotion in difficult conditions. We wish success to all Turkish Teams who continue to work in the region. All the work should be an ointment to the wounds of the Arakan Muslims in the region!