October 31, 2020
Posted by:

galip

Categories:

General, News, Operations, Search And Rescue, Volunteering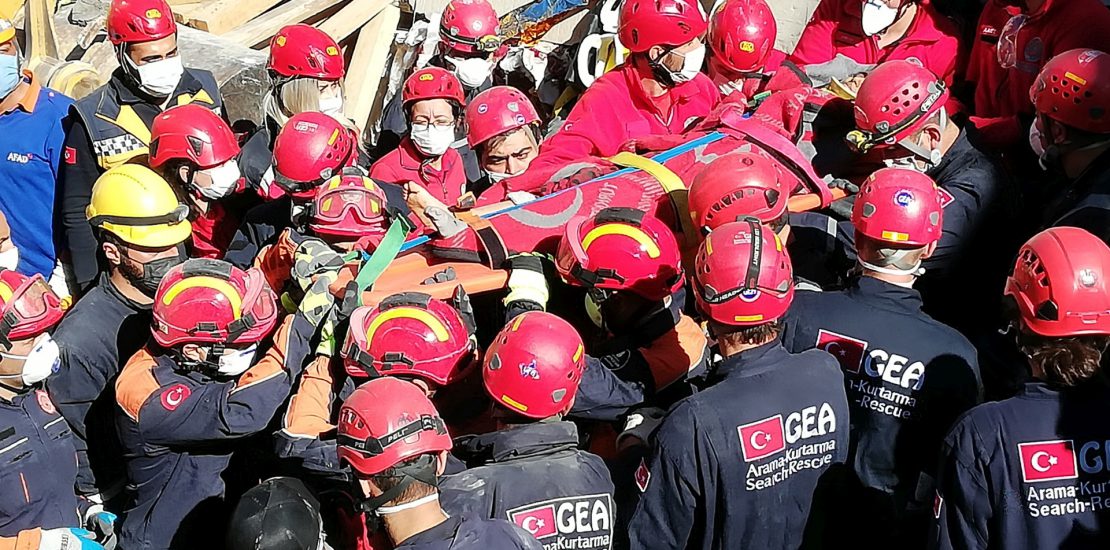 Izmir Seferihisar Earthquake Search & Rescue And Humanitarian Aid Operation
Right after the 6.6 magnitude earthquake, which hit the Aegean Sea Seferihisar (IZMIR) on Friday, October 30th at 02:50 pm, GEA Izmir team started immediately search and rescue activities in the region. In the meanwhile, GEA Istanbul team mobilized very quickly and joined Izmir Team. On the same day, Ankara, Antalya, Bursa, and Eskişehir GEA teams were also merged with the team working in the disaster area.
After our teams arrived in the disaster area, they started immediately search efforts. GEA team's search and rescue operations were mainly focused on Doganlar Apartment and 275/18 Yagcioglu debris site.
From the first hours of the disaster, GEA team has been part of the search and rescue operation carried out under the coordination of AFAD. GEA continuously worked  during Saturday night.
In the early morning hours of October 31st Saturday, GEA team had the first contact with a victim who was a mother named Seher Perinçek. She and her twin daughters were stuck in Doganlar Apartment- one of the collapsed buildings in the disaster area.
As a result of hours of hard work inside of the debris to reach mother Seher Perinçek and her twin daughters, at the 23rd hour of the earthquake they were rescued alive from the debris.
On Sunday, November 1st, while the search and rescue efforts have been continuing in Doganlar Apartment and 275/18 Yagcıoglu debris site, GEA humanitarian aid team has started to set up tents and distribute humanitarian aid materials in the regions in need.
In Bayrakli, Bornova, GEA humanitarian aid team assessed the needs and met the urgent needs of 1500 families at several tent areas. Sleeping bags, pandemic kits, blankets, scarfs, food packages, hygiene kits, and play dough have been distributed.